We are committed to working toward a waste-free future.
Our vision is that none of own packaging ends up in landfill.
Our AP branded treat bags are 100% recyclable plastic
Our online orders are packaged in paper hex-wrap. We're currently transitioning all our post satchels over to fully compostable mailer bags. Hex-wrap is the perfect addition to a snuffle box – throw crumbled hex-wrap into a cardboard box and toss some treats in for your dog/cat to snuffle.
If you receive bubble-wrap in your package, we have re-purposed it from our supplier deliveries.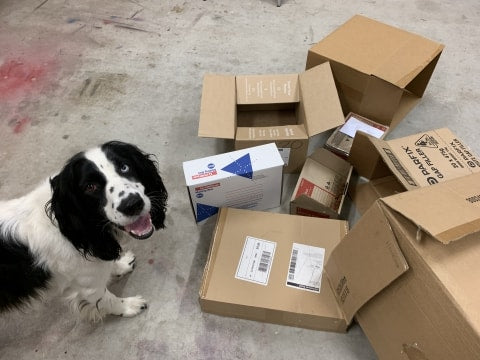 In-store we recycle supplier cartons for you to take home your goodies. You can then use these at home for 'treat searches' for dog or cat by hiding our treats/food in them to be sniffed out.
We also have re-useable fabric shopper and cooler bags available for purchase.
We do encourage you to bring your own shopper and cooler bags in.